Dueling dinosaurs go extinct at auction
Details

Published on Friday, 22 November 2013 08:44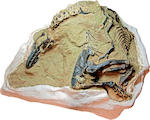 Bonhams auction house tried, and failed, to sell dinosaurs that it said was dueling. It was a total load of crap. Not the selling of the fossils (although I'm against that too) but the fact that the "palaeontologist" at Bonhams was saying the most outrageous things about the dinosaurs. I mean really, Disney would have trouble coming up with more elaborate fantasy stories. One quote that came in just as the auction fizzled, that I really wanted to use in this story but didn't because the palaeontologist was concerned about getting attacked for libel, was "The Gordon Gecko's of palaeontology have learned a valuable lesson in greed tonight!" A better statement would be hard to make about the situation. Anyway read on in my article in Nature.
Microbial minefield
Details

Published on Sunday, 10 November 2013 11:29
Bacterial films are a serious problem when it comes to implanting medical devices inside people. Even when you think a material is perfectly clean, it all too often has staph or ecoli attached - this costs lots to deal with once the infections spread and (worse) costs lots of lives. With this in mind a team wondered whether it might be possible to attach phages, that infect and kill bacteria, to the sorts of materials that are used in implants. More importantly, they wondered whether if, once these bacteriophages were attached, they would they still kill bacteria that came near? The answer is a remarkable "yes," read on in my article in The Economist.
Dam gas
Details

Published on Tuesday, 05 November 2013 11:22
Dams have lots of ecological problems associated with them. They block up sediment transfer, flood surrounding lands, halt fish migration... the list is long. The one thing that dams are supposed to be good at is producing clean energy but now even that is coming into question as a team reveals that the sediment locked behind small dams is often rich in organic material and a site of intense greenhouse gas emission.

Inland waters have long been known to be significant sources of both carbon dioxide and methane as microbes degrade organic matter. This is quite different from microbe degradation in ocean water where aerobic (rather than anaerobic) degradation takes places and produces mainly carbon dioxide. There is no question that CO2 is bad, but methane released into the atmosphere is much worse, having a global warming potential that is nearly 25 times higher.

Aware of all of this, a team speculated that organic sediment was getting stuck behind dams and, rather than moving out to the ocean where aerobic degradation would start, it was being anaerobically degraded. To test these ideas out, they evaluated the effect of damming on methane emissions in a central European impounded river. Direct comparison of river and reservoir gas levels revealed that sediment accumulation behind the dam correlated with high methane production. More importantly, their results suggest that sedimentation-driven methane emissions from dammed river hot spot sites is potentially increasing global freshwater emissions by up to 7%. Other rivers need to be explored to see if these results are consistent the world over, but if they are... eep!

Discovery of a venomous crustacean
Details

Published on Wednesday, 30 October 2013 10:16
Scorpions, spiders, fire ants, wasps... the list of arthropods that are venomous goes on and on, but until today, we have never seen a single venomous member of the group containing crabs, lobsters and shrimp. This is notable because there are a friggin 72,000 of them and not *one* has ever been found with venom. That is now changing as a team at The Natural History Museum in London reveals a cave-dwelling crustacean that impales animals with needles on its claws and injects a toxin that liquifies them so that it can slurp them up like milkshakes. Read on in my article in Nature.
Photo courtesy of Joris van der Ham.
Not your average cup of joe
Details

Published on Tuesday, 15 October 2013 19:56
Kopi Luwak, the most expensive coffee in the world, sells for $80 a cup, and shit is literally part of the process of making this coffee what it is. High-quality coffee berries are fed to small rodent-like creatures called palm civets. The berries then pass through the animals' guts and the seeds, or beans as we call them, eventually come out the other end. The chemical reactions that occur within the stomachs of the civets give the beans their enhanced flavor, making them not only desirable but also subject to counterfeit. This was a problem that some researchers in Japan were eager to fix, so they developed a test designed to differentiate adulterated Kopi Luwak from the real thing. But their study may have done more than that by providing a chemical means of creating the coffee from scratch and removing the need for civets. Mere mortals then, and not just the filth rich, might finally get a Kopi cup of joe. Read on in my article in The Economist.
Scholarscribe summary authored by Benjamin Guggenheim.
Whose side are you on?
Details

Published on Thursday, 24 October 2013 09:23
Much as Lady Justice blindly considers her scales outside courtrooms the world over, so too are experts brought into such places supposed to refrain from looking at the court proceedings and report only on the facts that they see before them. Yet questions have circled for years around whether they actually can function objectively. The concerns arise from the fact that these experts are hired by one of two opposing sides in a case and that this status of employment, as temporary as it is, has the potential to sway decision making. Legal scholars have long wondered if such experts might have a subconscious allegiance to the hiring side, and now a team led by Daniel Murrie at the University of Virginia and Marcus Boccaccini at Sam Houston State University are proving that there is. Read on in my full article here.
The right kind of happy
Details

Published on Friday, 27 September 2013 08:30
According to the Greek philosophers, there are two kinds of happiness: the "hedonic" sort which arises from personal pleasure and the "eudaimonic" sort which comes from living a life of virtue. Each has their advocates and both yield happiness, but it's been unclear whether either has distinct effects on the health.
Working with a large number of volunteers, a team of genomics researchers and psychologists set out to tease the two apart by studying the performance of the participants immune systems while monitoring the forms of happiness that they experienced on a daily basis. They found that the two forms of happiness have notably different health effects and one is decidedly better than the other. Read on in my article in The Economist.